Please note: this is an old news article.
This article was published on 25, March, 2017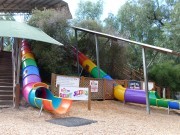 Brand new slip sliding fun at KidsTown.
Five brand new slides have been unveiled at SPC KidsTown. The ever popular KidsTown Treehouse now features three new covered slides for kids and kids at heart. The largest of the three measures an impressive 18 metres long. For younger children we have also installed two new covered junior tunnel slides. Each of the slides feature new rubber run off mats and covered all weather protection.