Please note: this is an old news article.
This article was published on 1, July, 2016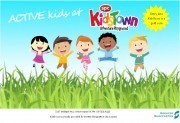 GET ACTIVE AT KIDSTOWN!
This is a fun event helping kids get active and learning about fresh fruit and fitness.

Cost is $5 per participant, includes a train ride and goodie bag on completion.

Event will run from 11am to 2pm daily

Register at the KidsTown Cafe.