Please note: this is an old news article.
This article was published on 24, July, 2008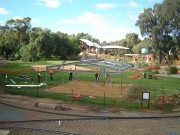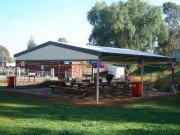 New Area "Junction Shelter"
The Shelter project involved the development of the games/volleyball area at KidsTown which incorporated the construction of a shade structures, picnic tables and paving of the general area under the shelter. Participants from Hume Employment Work for the Dole program, develop skills relating to building and construction, paving and general grounds and equipment maintenance under the supervision and direction of the KidsTown operations team.
The project started 27/09/07 and was completed 16/05/08.
"Junction Shelter" is now available for group bookings.
Contact our KidsTown Bookings Officer on 03 5831 4213 for more details.