Please note: this is an old news article.
This article was published on 24, July, 2008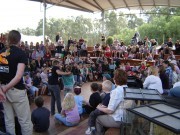 The KidsFest is a two day festival aimed at kids aged from 3 to 12 years and is crammed full of entertainment and activities. The festival is composed of a main stage area which play host to entertainment acts, under covered area for craft displays and activities, an area dedicated to sports programs and sporting personalities, an outdoor beach volleyball court with a full program of activities, a sideshow alley, tradeshows and display areas as well as continuous roving entertainment.
A major component of the Festival is the Miniature Railway Expo in which miniature railway enthusiasts from all over Victoria bring their trains to KidsTown and provide rides to visitors on the 1.5km landscaped miniature railway track.
This year's KidsFest will also play host to a Scarecrow competition which is open to all age groups. Entrants will build scarecrows from scratch which will be put on display all around the miniature railway track at KidsTown for all to see. All this in addition to SPC Ardmona Kidstown's other fantastic attractions. Festival Dates Friday 3rd October 10am – 4pm & Saturday 4th October 10am -4pm. Entry is a gold coin donation which will cover all attractions except the rides in the sideshow alley area.