Please note: this is an old news article.
This article was published on 11, October, 2008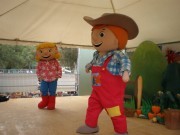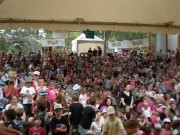 KidsFest this year was held over two big day's, that ended the Victorian school holiday's with a blast....!!
The festival saw crowds of more than 6000 parents and excited children pass through the KidsTown gates to enjoy such a wonderful festival.
Activities included paper crafts from Crayola, wood working from Goulburn Valley Woodturners, fire safety lessons in the CFA mobile education unit, Camel rides, Jumping castles, more kids crafts from Bunnings. We also had appearances by Max and milly from New McDonalds Farm and Chris and his team from Wild Action, "the Zoo that comes to you". One of the big hits were the miniature train's with trains from Dimond Valley minature railway club.
KidsFest was a great success the first day beat all of our expectations with at least four holiday programs bringing bus loads of children from across the state to join in the fun.
We would like to send a BIG Thanks to all our Volunteers that helped make this event such a success.
The Festival has now completed it's third year and definitely will be back next year which will be bigger and better. If you would like to be apart of this wonderful event childrens festival next year, please contact Steve Wilson or Tracey Biddle at SPC Ardmona KidsTown on 03 5831 4213.