Family Fun Fair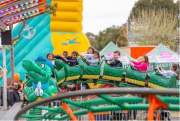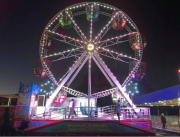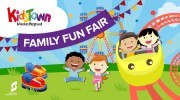 SECOND WEEK POSTPONED to 12, 13, 14 & 15 AUGUST
Start Date:
Thu 12 Aug 2021
End Date:
Sun 15 Aug 2021
Venue:
KidsTown Carpark
Cost:
Carnival Rides $6 - $10
Melbourne Family Fun Fair are in town at KidsTown with lots of family Carnival Rides.
Family Fun Fair will run in the KidsTown Carpark for TWO WEEKS:
Thursday 29th and Friday 30th July: 5:30pm till late
Saturday 31st July and Sunday 1st Aug: 12noon till late
AND
Thursday 12th and Friday 13th August: 5:30pm till late
Saturday 14th and Sunday 15th August: 12noon till late
Sideshow Rides will include adults and kids rides, with family favourites Dodgem cars, Ferris wheel, Sky diver, Jumping castle, Red Barron, Tea cups, Go gator roller coaster plus Games and Fairy floss
Entry to Family Fun Fair is FREE!
Carnival enquires: 0424 272 531
KidsTown will be open! Playground open all day every day.
Café with extended hours, hot food and drinks available.
Dig In Café
Saturday & Sunday: 10am - 5pm
KidsTown Miniature Train: Saturday & Sunday: 11am - 3pm
KidsTown enquiries: 5831 4213 or email us at info@kidstown.org.au
Please note the following requirements that will allow this event to go ahead safely for everyone:
>The Family fun fair will operate at a maximum of 300 patrons at any one time in the funfair area
>Visitors can come with a group no bigger than 10 people
>There will be a click in and click out system controlled by a Covid Marshall at the entry
>Everyone must QR check in on entry or manually sign in, as required by the Victorian Government
>All attendees will be required to wear a mask unless a medical exemption applies
>If you are feeling unwell please stay home
>All amusement rides and games will have sanitising stations
>There will also be sanitising stations at the entry and exit of the funfair
>Please sanitise and try to stay 1.5 m apart