Please note: this is an old news article.
This article was published on 11, April, 2011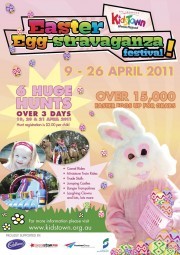 SPC Ardmona KidsTown is holding its annual Easter Egg-Stravaganza Festival for the Victorian school holidays that starts Saturday 9th April to Tuesday 26th April 2011 between 10.00am-3.00pm each day.
Easter Egg-Stravaganza Easter Egg Hunt proudly supported by Cadbury will run over three-days during the festival, Tuesday 19th, Wednesday 20th & Thursday 21st April. The egg hunts are aimed at kids aged from 3 to 12 years.
KidsTown Coordinator Steve Wilson said the Easter Egg-Straveganza Festival will be bigger than ever this year. "There is going to be six huge Easter egg hunts over the three days, with 15,000 Easter eggs up for grabs," Mr Wilson said.
"The festival has lots of entertainment including an outdoor beach volleyball court, a massive sideshow alley, the new teen playground as well as continuous roving entertainment.
"A major component of the festival will be the sideshow alley and the miniature railway train rides.
"Miniature railway enthusiasts are bringing their trains to KidsTown to provide rides to our visitors on the 560 metre landscaped miniature railway track.
"Even the Easter Bunny will be making an appearance each day during the hunts.
"All this in addition to SPC Ardmona KidsTown's other fantastic attractions."
Easter Egg Hunt times:
5 years and under will begin at 11.00am on each day.
6 years and over will begin at 11.30am on each day.
(Please arrive 15 mins prior to commencement time for registration.)
Entry into the Easter Egg-Stravaganza Festival is by a gold coin donation. All rides in the Sideshow Alley area incur an extra cost per ride.
A $2 registration fee is required for the Easter Egg Hunt.
For more information, please contact KidsTown on 5831 4213 or checkout http://www.kidstown.org.au/.