Please note: this is an old news article.
This article was published on 10, March, 2014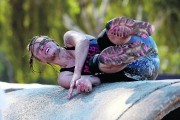 Competitors in the Mad Cow Mud Run climbed, crawled and scrambled their way along the 12km course yesterday.
While the weather was perfect, the course itself threw up plenty of obstacles including mud, mud and more mud.
Competitors hopped over fruit bins, climbed a wall of hay bales and even tackled a maze and an electric fence on the course, which started and finished at Princess Park.
The loop took the athletes across the Goulburn River and into bushland before a series of obstacles in and around KidsTown and on the final leg back to Princess Park.