Please note: this is an old news article.
This article was published on 20, May, 2011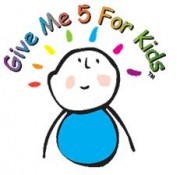 Here at KidsTown with 95 3SR FM, GIVE ME FIVE FOR KIDS is a community based appeal that raises money for Children's Wards at Goulburn Valley Health.
The key to the appeal's success is that money raised locally is spent locally. Everyone in the community that has a need to use the Children's Ward at their hospital benefits.
We want to raise much much more this year and we need your help....!!
All donations through the play money machine will go directly to Give Me 5 for Kids, as well as all the donation tins that are around at all the activities on the day and the whole weekend.
So please come and celebrate Saturday 18th & Sunday 19th June 2011 with us at KidsTown and help us support our local hospitals kids ward.
We will also be announcing the winner of the KidsTown / Shepparton Jumping Castle's Colouring In Competition. So please kids get your pencils out and start colouring in your competition form.