Please note: this is an old news article.
This article was published on 19, May, 2009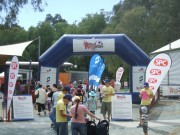 Member for Northern Victoria and Parliamentary Secretary for Rural and Regional Development, Kaye Darveniza, welcomed the support for this major children's event.
"It will incorporate a miniature railway expo, staged entertainment, sports programs, trade and craft displays, with funding provided through the Country Victoria Events Program," Ms Darveniza said.
She said the State Government is taking action to support tourism in regional Victoria, helping to boost local economies and creating thousands of jobs in local areas.
"The Greater Shepparton region has a fantastic range of diverse attractions and events – whether you are interested in sport, gourmet food and wine, music, adventure or a short break.
"Many visitors coming to the area for these events will stay in the region, giving the local tourism industry an important boost.
"Visitors will be well serviced by our extensive range of accommodation options, including B&Bs, motels, hotels and caravan and camping facilities," she said.
She also said the region's cafés, restaurants, bars and shops will also benefit from the thousands of visitors that these events attract, helping to protect the jobs of the thousands of Victorians employed by the tourism industry across the State.
The Country Victoria Events Program (CVEP) assists with the development of growing regional events with funding made available through the State Government's Living Regions Living Suburbs program and is managed by Tourism Victoria.