Please note: this is an old news article.
This article was published on 12, December, 2011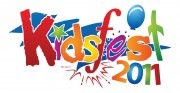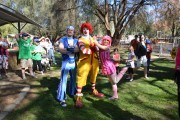 KidsFest 2011, see around 15,368 people visited KidsTown and the 2-day festival, which proved to be an enormous success. Survey results indicate that 45% of visitors were from outside the Greater Shepparton area, 7.7% of whom were from interstate. Total attendances were up on last year's figures, by a whopping 3420 visitors.
This year's festival composed of 2 main stage area's which play host to entertainment and educational acts, under covered areas for craft displays and activities, three areas full program of activities dedicated to sports programs and sporting personalities, three sideshow alleys, tradeshows and display areas, as well as continuous roving entertainment which included Super Hero mascots, Ranger Roo, the Victoria Police Pipe Band and many many more.
KidsFest 2011 gain significant regional and state exposure through an extensive television, radio and print market campaign in the lead up to the starting date and as a newsworthy story throughout the duration and after the event.
One of the many major components of the festival each year is the Miniature Railway Expo in which miniature railway enthusiasts from the Diamond Valley Miniature Train Club volunteer their time and bring to KidsTown their trains and provide rides to the many visitors on the 560 metre landscaped miniature railway track. This year seen over 3210 visitors ride on the trains
Another great component was a dedicated area called "Greater Shepparton Village", which is an interactive children's village set up by a wide range of community and cultural groups to promote community involvement by utilising educational and interactive activities for the whole family. This year's village activities included presentations and displays from the Victoria Police, Deb Simms MakeDo, RiverConnect, Indigenous storytellers and entrainment, Safety Ville games, and loads of other multi cultural activities from Greater Shepparton City Councils Community Development and Children and Aged Care Services Departments.
This year we seen an increase in display areas, entertainment and educational activities from both state and national organisations and businesses. The likes of Parks Victoria, Play group Victoria, Bunnings, McDonalds and Coles all increased their involvement. During and after the event KidsTown staff and management received great feedback about the new display and activity areas and how great it is to see large companies and organisations supporting KidsTown and its events
A festival of this size and relatively low cost to visitors would not take place without some very dedicated people. Over a 150 volunteers and staff were involved in putting KidsFest on this year. A total of 16 Great Shepparton City Council staff were involved each day of the festival. Staff were involved in the Sports, Crafts, Food and Drink Areas, Car Parking, Festival Coordination and General Operations of the event. The permanent KidsTown staff spent a number of months working on the festival trying to secure programming, sponsorships and preparing the site so it could handle such a large event
Each year KidsFest volunteers dedicate hundreds of hours to the festival and without the great dedication KidsFest just wouldn't happen. Over 135 individual volunteers were required to put on KidsFest 2011. The Volunteers filled over 307 positions with tasks included selling and servicing food, beverage and merchandising, parking cars, surveying visitors, assisting with crafts, sideshow alley , stage shows, miniature trains attendees and assisting in the sports areas.