Please note: this is an old news article.
This article was published on 10, July, 2009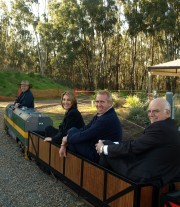 Ms Darveniza said the Brumby Government would provide $60,000 to Greater Shepparton City Council for the project.
"KidsTown is not only an important community facility, but a tourist attraction for this area," Ms Darveniza said.
"The funding will be used to install new equipment, seating and a new timber bridge over the existing miniature railway line.
"Volunteers, people with a disability, students and Work for the Dole participants will carry out the work."
Greater Shepparton City Council is contributing $70,000 to the project, while business groups are providing $15,000 cash and $5000 in-kind support.
Greater Shepparton Mayor Geoff Dobson said Council will use the funding to construct a walkway over the miniature railway line from the back of the amphitheatre leading into a new play space specifically designed for children aged between 6-12 years.
"The new play space will complement the existing areas at KidsTown and is likely to include climbing and riding equipment as well as seating and shade," Cr Dobson said.
"Council has invested around $400,000 into KidsTown during the past two years to upgrade the water and sewerage infrastructure so that the play facilities can be expanded.
"It's exciting as this will be the first significant addition to the playground attractions in more than three years."
KidsTown was one of five adventure playgrounds to recently receive funding from the Victorian Government.
"Playgrounds are a great way of combining fun and physical activity for young children," Ms Darveniza said.
"By investing in these five projects, we are helping young children to develop healthy habits, while also building valuable community assets for local people."
It is expected the new play equipment will be installed by the end of 2009.