Please note: this is an old news article.
This article was published on 22, March, 2013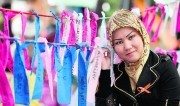 From henna painting to health checks, Harmony Day was in full swing at KidsTown yesterday.
Greater Shepparton City Council hosted a morning tea to celebrate the event, which was designed to celebrate Australia's diversity.
Council access and inclusion officer Louise Dwyer said 14 organisations participated in the morning tea.
''We need to be celebrating the cultures we have here in our community and learn from others' cultures,'' Ms Dwyer said.
The morning tea included performances from Shepparton English Language Centre students, Italian dancing and multilingual children's book readings.
Attendees also contributed to an art project by decorating ribbons with the name of the country they were from.
Event MC Leo Houlihan said Harmony Day was one of his ''favourite days''.
''If anyone needs to see the success of multiculturalism in Shepparton, they only need to see a day like today,'' Mr Houlihan said.
Mayor Jenny Houlihan said it was a time to celebrate Shepparton's ''unique diverse community''.
''Harmony Day celebrates our diversity and as Shepparton is built on years of migration and our Aboriginal history, I don't think there is a better place to celebrate our diverse community than here in Shepparton,'' Cr Houlihan said.
Harmony Day is celebrated annually on March 21.
This year's celebration took on the theme of Many Stories — One Australia.