Please note: this is an old news article.
This article was published on 31, October, 2013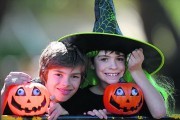 KidsTown café and event attendant Vanessa Tartaglia said it would be the first time they had run an event of this kind and there had been a lot of interest from families.
''It's something a bit different. It's the night after Halloween. It will cater for all ages.''
She said in addition to spider craft, monster cookies, freaky face painting, jumping castle and train rides, there would be a dress-up section for adults and children with prizes awarded.
Ms Tartaglia said spider craft involved attaching pipe cleaners to a lollipop to make it resemble a spider.
''There'll also be a ghost train with a few surprises around the track,'' Ms Tartaglia said.
She said a number of volunteers from KidsFest would be pitching in to help on the night.
Glow sticks will be sold at the event, the café will be open and a barbecue will be available, too.