Please note: this is an old news article.
This article was published on 4, June, 2010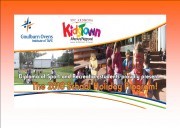 GOTAFE is excited to announce the annual 2010 School Holiday program, held in partnership with SPC Ardmona KidsTown, will be held again in the June holidays.
The program, which is conducted by GOTAFE Diploma of Sports and Recreation students, is held during the school holidays from Monday 28th June until Friday 2nd July at the award winning SPC Ardmona KidsTown playground.
This year the program promises to be action packed and full of fun for kids of all ages, giving parents the opportunity to sit back and relax, or join in the fun with the kids while they enjoy a day of fun filled activities.
This year, scheduled events include:
Monday: Sports Day (kids dress up in their favourite sports clothes)
Tuesday: Superhero Day (kids come dressed as their favourite Superhero!)
Wednesday: Olympics Day
Thursday: Games Day
Friday: Music Day
Activities are held between 11:00am - 12:30pm, and 1:30pm - 3:00pm each day, with a BBQ each day from 12:30pm - 1:30pm. The side show alley and miniature train are also running all week from 11:00am - 3:00pm daily.
Entry is via gold coin donation, and there are plenty of prizes to be won!
For more information, please visit the GOTAFE website at http://www.gotafe.vic.edu.au/, the KidsTown website at http://www.kidstown.org.au/, or phone 5831 4213.