Why not have your next party or get-together at Kidstown?
The following areas are available for hire. Read the information below and select the perfect area for your requirements. To make a booking, use the online form at the bottom of this page, or call us on (03) 5831 4213.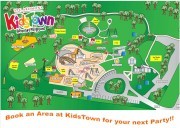 Click here to make a booking enquiry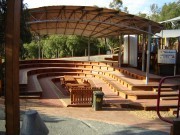 Amphitheatre
A large covered area which can seat about 250 people located within the playground. No BBQ is available but a portable BBQ can be hired for $30. This area is fantastic for schools and sporting groups to hold junior break-ups and awards.
Cost to hire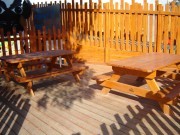 Dairy Maze Deck
Centrally positioned over looking the dairy maze and Furphy's picnic and play area. Easy access to the junior slides and the toddler area.
Area consists of two tables and can usually accommodate around 15-20 people.
Cost to hire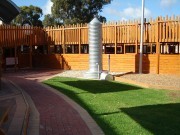 Furphy's Picnic and Play
This area has its own spiral slide and water feature and is centrally located with easy access to the main play areas and the amphitheatre. The area is fully enclosed and private with one BBQ and five tables available seating approximately 40 -60 people.
Cost to hire
$24.50 per hour
$94.50 for the day.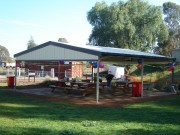 Junction Shelter
This roofed area is ideal for your private function such as birthday parties, family reunions, sporting presentations and large get-togethers. It includes a paved shade structure with picnic tables over looking a fantastic lawn area with super volley ball court for extra fun.
Cost to hire
$24.50 per hour
$94.50 per day
Portable BBQ Hire is also available at $30 per hour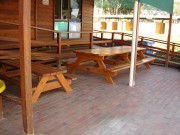 Café Verandah
Easy access to both the playground and the café, situated near the fruit bin climbing frame and the dairy maze.
This area comprises of two tables close to the playground and toilets and there is seating available for 10-20 people.
Cost to hire
Peppercorn Gardens (P1)
The area seats around 20-30 people, has one BBQ available, three picnic tables and space for extra tables and chairs or picnic rugs. Adjacent from the railway line and situated near the giant slides and the monkey bars. Ideal for parties.
Cost to hire
Peppercorn Gardens (P2)
This area consists of two BBQ's, six tables and can accommodate around 40-60 people there is additional area's for extra tables and chairs.
This area is our most popular area for large groups.
Cost to hire
Peppercorn Gardens (P3)
This area accommodates between 30-50 people, has three tables available, large grassed area a-joining Peppercorn 4. A portable BBQ is available for hire at a cost of $30. Located in a large grassed area close to the miniature railway and the wheelchair swing.
Cost to hire
$18.50 per hour
$67.50 per day
Peppercorn Gardens (P4)
Located in a large grassed area close to the Rainforest Area and Turtle Back. The area has the ability to accommodate up to 70 people, there are three tables for use but there is no permanent BBQ facility available. You may hire a portable BBQ for $30.00.
All our lawn areas have a fantastic bush background which is a great place for a Wedding. For more information on Wedding's here at KidsTown please contact us on 5831 4213.
Cost to hire
$17 per hour
$63 per day
Wedding booking price on application.
Wagon Domain
Two Picnic tables, seats approx 15-20 people. No BBQ (portable BBQ available). Lots of space for extra tables and chairs. This area is one of the coolest parts of the playground during the summer months. This area is perfect for weddings.
Per Hour $19
Per Day $68
Area Booking Form
Use this form to make a booking enquiry. If you have any questions, feel free to give us a call on (03) 5831 4213.
Terms and Conditions
All applications must be made on the prescribed form, stating the purpose of hire, hours required and signed by the applicant to comply with all the conditions of hire.
All parties must be supervised by an adult and nominated adult must remain onsite at all times.
No smoking is permitted within the playground.
Removal of rubbish is the responsibility of the hirer. After the event, all rubbish bins are to be emptied into the appropriate rubbish and recycle bins located outside the rooms.
BBQs must be cleaned to the best ability.
No signs or banners or other fixtures may be erected externally without consent of the Council or their designated officer. (KidsTown)
No tape, Velcro dots, nails, thumb tacks or adhesive materials are to be used on any wall, pillar or surface in any part of the playground. Only Blue Tack or removable cable ties can be used to display posters/banners etc. which must be removed after your event.
This facility is hired to the event organiser and cannot be sub-let or hired to a third party.
All fees must be paid for at least 24 hours prior to event to confirm your reservation.
Any external equipment providers must provide a copy of current Public Liability Insurance to KidsTown.
If alcohol is to be consumed at your event, a Permit to Consume Alcohol in a Public Place must be obtained. This can take up to 8 weeks to process.