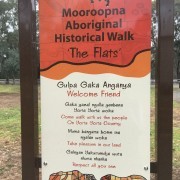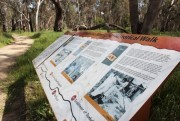 KidsTown Adventure Playground is located on the site of Daishs Paddock. We acknowledge this area for its known significance to the local Yorta Yorta Nations who walked off the Cummeragunja Mission in 1939 to The Flats in Mooroopna and to the area across the causeway: Daishs Paddock and the current KidsTown precinct. You can learn more about this local history by taking a walk along The Flats, which has history signs along the way.
The Flats walk begins at the tall orange 'Mooroopna Aboriginal Historical Walk' signs. Look for these at either:
KidsTown entrance – look out for the sign behind The Connection building and then make your way under the bridge to The Flats or
Mooroopna entrance - start walking from The Chinaman's Gardens in Mooroopna back towards Shepparton until you find the large pictorial sign and directions into the bush.
For more information about The Flats visit the RiverConnect website.
Looking for a guided tour with an Elder? Contact Yorta Yorta Nation Aboriginal Corporation on (03) 5832 0222 or reception@yynac.com.au