KidsTown Miniature Train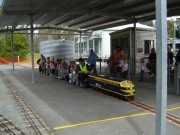 Please note the Miniature Train is not currently running due to extensive damage to the track following the October 22 floods.
KidsTown can offer lots of extra attraction's such as our Miniature Train rides that operate every weekend, Victorian public holidays and Victorian school holidays.
Train rides at $3.50 per person, per ride. All day pass available $10.00 per person.
VIP Train Pass $38.50 - 15 rides for multiple riders. Passes valid for 12 months.
Operating hours for our train rides are from 10am - 2pm, we can also arrange train rides for after hours bookings for an exclusive train ride experience. These are hired out at an hourly rate.
For booking's, prices and availability please contact KidsTown on 03 5831 4213 or email info@kidstown.org.au